Digital Nomads
During my recent trip to NYC I have shown the materials shot within the last two years of shooting Digital Nomads to the people involved in the project in New York. Digital Nomads is an ongoing project. An archive of portraits shot and composed by me in changing configurations as a live edited projection. I hope to continue working on the NYC material as well as conducting research in other areas, one of which is my long planed exploration of South-East Asia, that became a modern promised land for young creatives seeking for their own Utopia. I also try to include materials collected in different projects such as "Love Space" or in other words – I engage myself  into collaborations and researches that could be a part of Digital Nomads. I continuously seek for formats of funding of singular parts and for production scheme for the entire project.
I hope on filming Digital Nomads long enough to call it monumental. Until now it's the biggest thing I've ever done and I feel proud to be given time and trust of people who chose to tell me about what drives them, what is the future of the communal living, what are the modern networks and how to make the world sustainable and healthy. Doing so they share the dream they follow with extreme vulnerability and I would like that dream to become reality also through my project.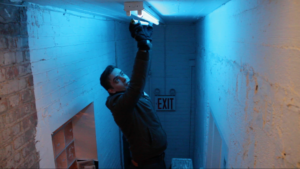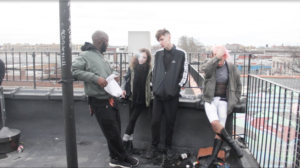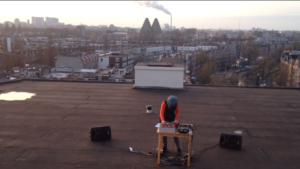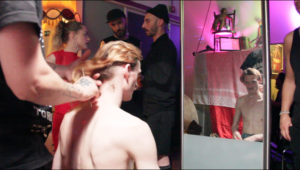 DIGITAL NOMADS work in progress
documentary film archive, research presented as a series of live performances and installations
Digital Nomads is a documentary film that is edited live in the cinema. The film is mixed live by the director presenting it, like a DJ would mix music. Digital Nomads is an archive of documentary portraits and impressions on global, cultural movements. The camera follows underground culture in New York, Amsterdam and Berlin. Filmmaker and Philosopher Julia Sokolnicka tries to answer questions of how will the future communities look like and what are the challenges and peculiarities of authentic bonding in the modern western economy. The film emphasizes the importance of dialogue and conversation as a tool of intellectual exploration and the dichotomy of the real space of social interactions and the space of technology. The project is ongoing and will soon move to South-East Asia researching on alleged Neo-colonial communities of western creatives living and working in Cambodia, Thailand and Vietnam, and the new Types of bonding through technology in China.
Description and chosen fragments:
https://juliasokolnicka.wordpress.com/2016/10/03/digital-nomads/
shows and screenings:
June 2016- Eye Amsterdam, Film Academy Graduation Show
January 2017 – Plug It In – eigteen 29 Gallery Amsterdam , curated by Justina Nakrascetie
August 2017 – Interim Kassel, presentation within the context of Documenta 14
October 2017 – RiXC Festival Virtualities and Realities at ?KIM Contemorary Art Center, Riga, Latvia, curated. Presented as video installation
Here is a short exemplary video work made of the collected material.