Blog Photography Film
film
czwartek, 4 czerwca, 2020
I was invited by Weronika Morawiec to create a program for the residency in exquisite art space Goyki 3 Art Inkubator i n the North of Poland – where one of my favourite art scenes is located. I was always gravitating to Gdańsk, and Sopot where most interesting Polish art is coming from, so this residency was a treat. Earlier this year me and Wael el Allouche were presenting in the Goyki 3 temporary art space and now I was supposed to be there for the summer and work on our project together. Sadly the Corona Virus came to Europe and disturbed our plans. But we kept in touch and hopefully we will continue our project in the winter.
 For now , our coordinator and amazing organizer, Agnieszka Rek of Art Inkubator, invited to write a piece for the website which is both a great opportunity and a great financial help in this difficult time. It's amazing to see art institutions really supporting their artists.
We started with publishing our letters from the period of the hardest lockdown which was completely differently executed in Poland and in the Netherlands.
I also made a video using our personal archives from that period.
Enjoy!
Tags: agnieszkarek, amsterdam, art, artinkubator, goyki3, goyki3artinkubator, juliasokolnicka, nokscollective, notes, notesfrompandemic, pandemic, sopot, tricity, weramorawiec, weronikamorawiec
Posted in film | Możliwość komentowania LETTERS FROM PANDEMIC text and personal archive video for GOYKI 3 została wyłączona
piątek, 20 września, 2019
Since my graduation essay on Reality and Realness from 2016, I am thinking of a camera as a tool of perception and projection at the same time. Ever since I can have it in my pocket, it becomes an intimate tool of storing moments and creating parallel reality of material, that creates possibility of reinterpretation and re-living the time. It's an opportunity to create new narratives from the footage that has a personal meaning, but could also be treated as investigation tool.  
 Archiving and compulsive filming definitely is a tool of research.
I am currently looking for funding opportunities to work on narrative formats with my own archive but also to deliver such tools to users that aren't artists or researchers.
I am proud to be included into a research team of Eyal Sivan located at the Dutch Film Academy, where we focus on designing interfaces and addressing our needs for technology that could facilitate intelligent video archiving.
Here some links to experiments I have been conducting during my time at the film academy.
The editing styles presented here plus the style of Digital Nomads and You must Apologize are basically the outcome of my work so far.
1.High Speed animation.
The work on archives of still images that manipulate the time is my great fascination. I used this technique with the Stock footage images while working with Szymon Adamczak on his "We Are Not Watching The past Yet" . Here a sample of 9 years of an archive created from the random footage in my Mac Photobooth – an early selfie tool. It follows my life but also a connection to my device- it later led to manipulating intimacy also directed outside – to the other side of the camera.
2. The Outside of the camera or camera as an intimate perception tool.
Revisiting an archive is crucial to my practice and it also builds my certainty in how editing and connecting meanings behind visual and sonic stimula is resembling thinking. It also allows to play with the sense of time and experience.
Posted in film | Możliwość komentowania Large Archives and editing as thinking została wyłączona
poniedziałek, 3 grudnia, 2018
Bubu Went Viral on Facebook.
It's a first video from a planned series of animals speaking up their mind in the name of human resentiments. It only theoretically doesn't make any sense.
Tags: bubu, dog, doggo, doggy, doglife, juliasokolnicka, poland, posthumanism, thuglife
Posted in film | Możliwość komentowania Bubu została wyłączona
niedziela, 22 kwietnia, 2018
During my recent trip to NYC I have shown the materials shot within the last two years of shooting Digital Nomads to the people involved in the project in New York. Digital Nomads is an ongoing project. An archive of portraits shot and composed by me in changing configurations as a live edited projection. I hope to continue working on the NYC material as well as conducting research in other areas, one of which is my long planed exploration of South-East Asia, that became a modern promised land for young creatives seeking for their own Utopia. I also try to include materials collected in different projects such as "Love Space" or in other words – I engage myself  into collaborations and researches that could be a part of Digital Nomads. I continuously seek for formats of funding of singular parts and for production scheme for the entire project.
I hope on filming Digital Nomads long enough to call it monumental. Until now it's the biggest thing I've ever done and I feel proud to be given time and trust of people who chose to tell me about what drives them, what is the future of the communal living, what are the modern networks and how to make the world sustainable and healthy. Doing so they share the dream they follow with extreme vulnerability and I would like that dream to become reality also through my project.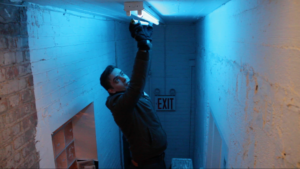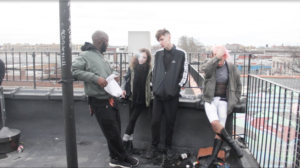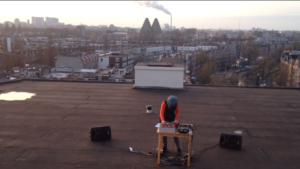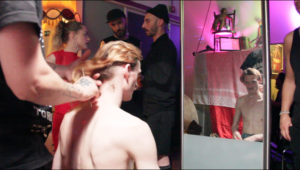 DIGITAL NOMADS work in progress
documentary film archive, research presented as a series of live performances and installations
Digital Nomads is a documentary film that is edited live in the cinema. The film is mixed live by the director presenting it, like a DJ would mix music. Digital Nomads is an archive of documentary portraits and impressions on global, cultural movements. The camera follows underground culture in New York, Amsterdam and Berlin. Filmmaker and Philosopher Julia Sokolnicka tries to answer questions of how will the future communities look like and what are the challenges and peculiarities of authentic bonding in the modern western economy. The film emphasizes the importance of dialogue and conversation as a tool of intellectual exploration and the dichotomy of the real space of social interactions and the space of technology. The project is ongoing and will soon move to South-East Asia researching on alleged Neo-colonial communities of western creatives living and working in Cambodia, Thailand and Vietnam, and the new Types of bonding through technology in China.
Description and chosen fragments:
https://juliasokolnicka.wordpress.com/2016/10/03/digital-nomads/
shows and screenings:
June 2016- Eye Amsterdam, Film Academy Graduation Show
January 2017 – Plug It In – eigteen 29 Gallery Amsterdam , curated by Justina Nakrascetie
August 2017 – Interim Kassel, presentation within the context of Documenta 14
October 2017 – RiXC Festival Virtualities and Realities at ?KIM Contemorary Art Center, Riga, Latvia, curated. Presented as video installation
Here is a short exemplary video work made of the collected material.
Posted in film | Możliwość komentowania Digital Nomads została wyłączona
wtorek, 3 października, 2017
Update: Love Space at Art Rotterdam
During the work on Love Space Jasper was supported  by  The Mondrian Fonds Young Art Scholarship and our collaborative work Love Space Documentary, was his choice of work for the exhibition "Prospects and Concepts" at Art Rotterdam. The way Jasper works is site specific, so showing the film that was documentation of what happened in the summer was very special. I hope the audience really transported into the Amsterdamse Bos just a little by watching the film. It was also great to be featured amongst some of my favorite young artists in the Netherlands.
I'm collaborating with Jasper Griepink on his exciting project – Love Space.
I made this 14 minute essential from the magic moment this summer. Very wise people met and combined their wide knowledge locked in practice of healing through work with the body, talking but most of all open heart and love, understanding and compassion for another human, practiced in networks of so called "green culture" mostly, but not only. The attitude towards how to bond in society and how to work on myself and relationships with others is something that could be learned only by osmosis.I hope the virus of kindness spreads. I have so much material from those two weeks spent in the Forrest with those guys. We are showing a bit on Art Rotterdam but also Jasper who's the mastermind behind all this (and one of my favorite artists), started a fundraising campaign. Check it out and if you have any suggestions on what should be our next step or if you want to produce our 45 minute documentary on love, hit me up!
https://www.gofundme.com/lovespace
Jasper's website:
http://jaspergriepink.nl/
and Love Space website:
http://www.lovespace.one/
Posted in film | Możliwość komentowania LOVE SPACE została wyłączona
czwartek, 18 sierpnia, 2016
I Finally finished my three year journey through rural Poland. The talks and landscapes captured through out this amazing winter adventure finished up in Amsterdam , where I post-produced the film from Master of Film study budget. It's 17 minutes and gradually and taking over world festivals. Ladies and gentlemen , my first film Side Roads.
Check out Trailer and Teaser right here:
Update April 2017
Side Roads have travelled a long way since I finished the film in the Autumn 2015. We got selected to Krakow Film Festival, New Horizons Fil Festival Wrocław, Opolskie Lamy International Film Festival, Mumbai International Film Festival, Ivy Film Festival (Providence USA), Camerimage International Film Festival, Chhatrapati Shivaji International Film Festival in Pune  (India), Heep an Eye Film Festival Eye Amsterdam.
It won Best Documentary at Los Angeles International Cultre Film Festival and Best Student Documentary at Mumbai International Film Festival.
Side Roads also got distributed at Ninateka.pl and in TVP Kultura
Please check the social media of Side Roads for more information
https://www.facebook.com/poboczesideroads/
Tags: Julia Sokolnicka, Pobocze, Side Roads
Posted in film | Możliwość komentowania Side Roads / Pobocze 2015 została wyłączona
niedziela, 29 listopada, 2015
One of my favorite Polish Bands "Tania O" invited me to work on their new video. The city portrait in the song is my home town Warsaw and it seems, as the lyrics go, as if a comet dropped  in the middle of it. It does seem like that to me when I visit, usually during summer vacation or Christmas time, when everyone is gone. Warsaw is also a city with harsh history of WW2 two bloody upbringings that led to brutal and complete bombing of the city and erasing large part of it's population and almost entire of it's original architecture. Followed by the Communism and the grotesque era of the 20+ years of Capitalism, that was already old when it was young for us, Varsovians. As one of them, I learned to love to hate and hate to love the cities architectural patchwork and dust. In the last years Warsaw is also in the same ranks as Bejing if it comes to smog, so by dust I mean dust.
I hope the post-apocalyptic indie rock vibe of the song is well recognized even if one does not understand brilliant lyrics written by Łukasz Kaniewski.
Posted in film | Możliwość komentowania NEW MUSIC VIDEO FOR TANIA O. została wyłączona
sobota, 28 lutego, 2015
Footage used in the video comes from a documentary project Polish Roads.
Baaba – EasterChristmas – Lado ABC 2014
concept and directed by- Julia Sokolnicka
programing of visual manipulation – Matteo Canetta
camera – Mateusz Wołoczko
www.baaba.bandcamp.com
www.ladoabc.com
Posted in film | Możliwość komentowania BAABA NEW MUSIC VIDEO została wyłączona
niedziela, 21 grudnia, 2014
A peculiar showreel I was asked to do for my class, that shows what kind of a filmmaker I am.
Posted in film | Możliwość komentowania MAPPING ME showreel została wyłączona
wtorek, 18 listopada, 2014
Posted in film | Możliwość komentowania KASZEBE new music video została wyłączona
środa, 6 sierpnia, 2014
NEW VIDEO I DIRECTED
SWEETLEGS BY PICTORIAL CANDI from Julia Sokolnicka on Vimeo.
Starring Bartek Walos.
Starring also: Candelaria Saenz Valiente, Małgorzata Penkałła, Magdalena Gajdzica, Krystian Grzywacz, Grzegorz Kowalczuk, Tomasz Zabłotny, Anna Witkowska.
Video directed by Julia Sokolnicka.
Concept & Script: Candelaria Saenz Valiente.
DOP: Wawrzyniec Skoczylas
Editor: Robert Beza
On set manager: Magdalena Jensen
This video was done with the crowd funding help of Michał Sufin, Rui Gonçalves, Marianna Hoszowska, Henrik Olsson, Roberto Miranda, Tomasz Dylag and Olivia Mihanovich.
Podziękowania Jola Woszczenko, Karol Tymiński, Ania Witkowska, Piotr Krygiel, Tomek Wierzchowski, Marcin Masecki, Tomek Pop, Michał Sufin, Specjalne podziękowania dla KLUBU KOMEDIOWEGO CHŁODNA
Posted in film | Możliwość komentowania SWEETLEGS BY PICTORIAL CANDI została wyłączona
poniedziałek, 13 stycznia, 2014
A New Video I've directed and produced.
BAABA + GABRIELA + MICHAŁ / SPOTKAM CIEBIE from Julia Sokolnicka on Vimeo.
"Spotkam Ciebie" is a song taken from analogue vinyl only album by BAABA featuring Gaba Kulka and Michał Skrok. All songs on the album are covers of classic Polish big beat songs.
Director: Julia Sokolnicka,
DOP: Michał Pukowiec/UŚC,
Kamera : Michał Pukowiec , Filip Cichecki,
Montaż: Piotr Krygiel,
Konsultacje: Szymon Kraszewski,
Kostiumy: Agata Wąs,
Charakteryzacja: Ala Gabillaud,
Scenografia: Agata Lepacka i Ewa Solecka / Lochoho,
Światło: Darek Barwiejuk/Heliograf,
Kamera: TPS, Mega TV,
Aftereffect : Maciek Chodziński,
Występują: Zespół Baaba w składzie: Tomasz Duda, Bartosz Weber, Maciej Moruś, Piotr Zabrodzki, oraz Gabriela Kulka, a także Michał MBunioS Hitmaker Skrok i gościnnie Daniel Pigoński.
Fotosy: Magda Makar, Marcel Borowski,
Kierownik Produkcji: Adrian Pawłowski/Film Fiction,
Dyżurny planu: Marcel Borowski,
Produkcja: FASTMEDIA, FilmFiction Adrian Pawłowski, heliograf, Studio Tęcza, Lado ABC/ Baaba, SuSok – intelligent styling/Sokolnicka.
Warszawa 2013
Posted in film | Możliwość komentowania BAABA + GABRIELA + MICHAŁ / SPOTKAM CIEBIE by JULIA SOKOLNICKA została wyłączona
poniedziałek, 13 stycznia, 2014
CO – DIRECTED AND ART- DIRECTED BY ME

BAABA/ SARAH'S SONG from Julia Sokolnicka on Vimeo.
Taken from the album "The Wrong Vampire" by Baaba (Lado ABC 2012).
Music by Krzysztof Komeda.
Written, directed and animated by Kasia Nalewajka
Art direction, costumes, production manager and assistant director: Julia Sokolnicka
Assistant production manager: Agnieszka Gójska
Camera: Igor Połaniewicz
Editing: Daniel Davies
Colour grading: Jarek Sterczewski
Make up: Anna Kołyga
The Players:
Janina McCormack – Lady in Red
Mikołaj Brach – Meat Vendor
Piotr Zabrodzki – Lover Boy
Maciej Moruś – Strongman
Bartosz Weber – Romantic
Crowd in the bar: Jan Małkowski, Zuzia Mockałło, Adam Kowalski, m.bunio.s, Michał Murawski, Tomek Kalinowski, Bartek Ważny
Filmed at Chłodna 25, Warszawa
Costumes courtesy of Teatr Ateneum
Special thanks to Grzegorz Lewandowski and Klubokawiarnia Chłodna 25 crew, Mateusz Stajewski, Konrad Styczeń and Krzysztof Halicz
Tomasz Duda, Natalia Przybysz and Małgorzata Sarbak didn't make it to the final version – sorry!
Posted in film | Możliwość komentowania BAABA VIDEO – STOP MOTION ANIMATION by Kasia Nalewajka została wyłączona
piątek, 10 stycznia, 2014

Lady Makbet – Sylwana Skar?y?ska Rutledge
Posted in film | Możliwość komentowania ACTRESS SYLWANA RUTLEDGE DIRECTED FOR HER DIPLOMA została wyłączona
czwartek, 13 czerwca, 2013
mobile hospitality by chmara.rosinke from MAK Wien on Vimeo.
The project mobile hospitality (Mobile Gastfreundschaft) pays attention to an important aspect of our chmara.rosinke's design work – the responsibility and the self-initiative in public space. The city plays as a space a difficult role. On the one hand it does not belong to anyone, on the other hand it belongs to all, but it is merely used by us actively, as it was in former times. It has decreased to the background of our everyday activities. Responsibility for the outdoor space, for most of the residents stops at their garden fence. The project mobile hospitality starts just here state Ania Rosinke and Maciej Chmara, who are MAK-Designers-in-Residence 2013.
chmara.rosinke are designer in residence 2013 at the MAK.
MAK.at
chmararosinke.com/
CAMERA and DIRECTING
Julia Sokolnicka &Michał Andrysiak
EDiTING
Michał Andrysiak, Tomek Wierzchowski
Posted in film | Możliwość komentowania MOBILE HOSPITALITY from Chmara/Rosinke with my CAMERAWORK została wyłączona
czwartek, 4 sierpnia, 2011
SHE'S A RIOT A NEW INDEPENDENT FASHION LABEL from Julia Sokolnicka on Vimeo.
Collection: GOTTA LOOK MY BEST IF WE'RE GONNA BREAK UP
Photos: Felipe Vasquez
Models: Reagan Barna, Marie Bliss Delpy, Lark Kidder, Melissa Rivera-Luciano, Katrin Petra, Maria Salas, Ursula Sommer
Styling, production, realisation: Ewelina Kustra
Location: Brooklyn, New York City
Thanks to Felipe Vasquez, Tomasz Baran and Sebastian Kustra for help with production and realisation and to all models for great support.
CAMERA, SCRIPT, DIRECTOR : JULIA SOKOLNICKA
Tags: Brooklyn roof, Ewelina Kustra, Felipe Vasquez, independent fashion, Julia Sokolnicka, making of photo shoot, neon colours, New York, she's a riot
Posted in film | No Comments »
czwartek, 4 sierpnia, 2011
In the Head from kasia nalewajka on Vimeo.
This film was rewarded 1st price in "Allegro" Short Film Contest, on Plus Off Camera Festival in Crakow in 2010.
Based on a story of Candelaria Saenz Valiente
Starring – Candelaria Saenz Valiente, Łukasz Czapski
Art Director , Animation – Katarzyna Nalewajka
Editting – Konrad Styczeń
Music and sound effects – Marcin Włodarczyk
Directed by Julia Sokolnicka
Tags: aftereffect animation, animation, art video, Candelaria Saenz Valiente, in the head, Kasia Nalewajka, Konrad Styczeń, Łukasz Czapski, video art, writers story
Posted in film | No Comments »
czwartek, 4 sierpnia, 2011
Opera Buffa to Teatr ludzi chorych na Schozofrenię. 1 kwietnia 2009, W czasie Warszawskich Spotkań Teatralnych obchodzili dziesiątą rocznicę swojego istenienia.
Reżyseria: Julia Sokolnicka
Montaż: Julia Sokolnicka, Tomasz Michalczewski
Kamera: Magdalena Mosiewicz, Zofia Bieńkowska, Julia Sokolnicka
Tags: Cafe Kulturalna, Julia Sokolnicka, Opera Buffa, schozofrenia, teatr chorych na schozofrenię, teatr eksperymentalny, Warszawskie spotkania teatralne
Posted in film | No Comments »
wtorek, 2 sierpnia, 2011
Realizacja:
reżyseria, kamera – Julia Sokolnicka
Montaż:
Tomek Michalczewski
Na zlecenie e-teatr.tv
Tags: backstage, Julia Sokolnicka, kulisy teatru wierszalin, Reportaż o końcu świata, Teatr Wierszali, za kulisami
Posted in film | No Comments »