Blog Photography Film
Posts Tagged 'Ewelina Kustra'
środa, 14 grudnia, 2011
Zdjęcie jest fragmentem kampanii dla SHE/S A RIOT.
This Picture is a part f a SHE/S A RIOT campaign.
Models Alexandra and Janina Mc Cormack/ Elbis Rever
Pictures /idea/styling Julia Sokolnicka
Shooting – April 2011 New York City.
http://projectalbum.pl/
http://shesariot.com/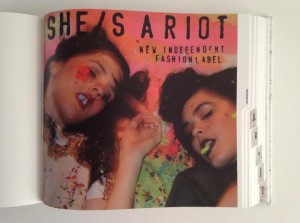 Tags: alexandra mc cormack, elbis rever, Ewelina Kustra, janina mc cormack, project album, sebastian kustra, she's a riot
Posted in photo | No Comments »
czwartek, 4 sierpnia, 2011
SHE'S A RIOT A NEW INDEPENDENT FASHION LABEL from Julia Sokolnicka on Vimeo.
Collection: GOTTA LOOK MY BEST IF WE'RE GONNA BREAK UP
Photos: Felipe Vasquez
Models: Reagan Barna, Marie Bliss Delpy, Lark Kidder, Melissa Rivera-Luciano, Katrin Petra, Maria Salas, Ursula Sommer
Styling, production, realisation: Ewelina Kustra
Location: Brooklyn, New York City
Thanks to Felipe Vasquez, Tomasz Baran and Sebastian Kustra for help with production and realisation and to all models for great support.
CAMERA, SCRIPT, DIRECTOR : JULIA SOKOLNICKA
Tags: Brooklyn roof, Ewelina Kustra, Felipe Vasquez, independent fashion, Julia Sokolnicka, making of photo shoot, neon colours, New York, she's a riot
Posted in film | No Comments »