Blog Photography Film
Posts Tagged 'karlkarlas'
piątek, 20 września, 2019
I was invited to be a part of a group show focusing on video works. My work will be a part of Two Thousand Eighty Four exhibition in Vensterbank Leiden, across from Leiden Centraal train station. It's an artist run art space located in a former Chinese restaurant.
Participating artists:
Johanna Talja
Julia Sokolnicka
Maurice de Rooij
Norbi Kovacs
Tim de Gier
Twentyfivenineteen (artist duo Michelle de Vaan & Ilke van Deventer)
It's a real pleasure to dive again into the Digital Nomads archive and revisit the old and add the new threads from this gigantic treasury of interviews, lifestyles, philosophies and communal paths. 
This time I will show a different mix every day, so prepare for surprises.
The exhibition takes place on the weekends of September 22/22 and 28/29 2019.
Here the Facebook Event:
https://www.facebook.com/events/2377459698969376/?event_time_id=2377459705636042
The show is curated by Karl Karlas.
Here an interview with me on the Vensterbank website.
Julia Sokolnicka
Here a picture of me by Jan Tomza-Osiecki, just when I'm browsing through the Digital Nomads Terabytes in my Amsterdam studio.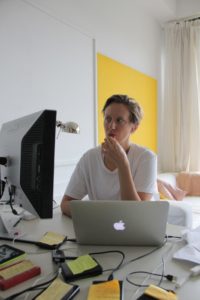 Tags: art, artspace, communities, digital nomads, digitalnomads, documentary, experimentavideo, film, juliasokolnicka, karlkarlas, leiden, marissakarlas, show, vensterbank, videoart
Posted in blog | Możliwość komentowania Digital Nomads in Vensterbank Leiden została wyłączona